as i found out that I'm intrigued by the concept of a moonlight garden, i was delighted to find this historic reference.
Mahtab Bagh is situated on the sandy bank of Yamuna River just opposite the Taj Mahal

mausoleum

.
Located across the river from the Taj Mahal, the Mahtab Bagh (or Moonlight Garden) was a pleasure garden built by Shah Jahan in the 1600's. From this vantage point, the emperor could relax and enjoy the vista of his great work in a setting of fountains and airy pavilions.

Plan of the Taj Mahal Complex including the Mahtab Bagh
The place is an ideal spot for it provides picturesque view of Taj Mahal. The name Mehtab Bagh means 'Moon Lit Garden' and the same was testified by the beautiful reflection of Taj Mahal in the pool at night in Mahtab Bagh. The place has a history of its own. It is believed that the great emperor Shah Jahan who built Taj Mahal for his queen wanted an identical one for himself at Mehtab Bagh (or was an extension of the Taj Mahal garden). However the archaeological findings have proved the existence of garden complex. The important attraction of Mehtab Bagh is Taj Mahal itself.
The garden has been renovated by the Archaeological Survey according to the original plan. The place has been enriched with vegetation and at present more than 40 species of plants bloom in the garden.
Satellite imaging and an old plan of the Taj complex indicate that Mahtab Bagh was an extension of the gardens across the river: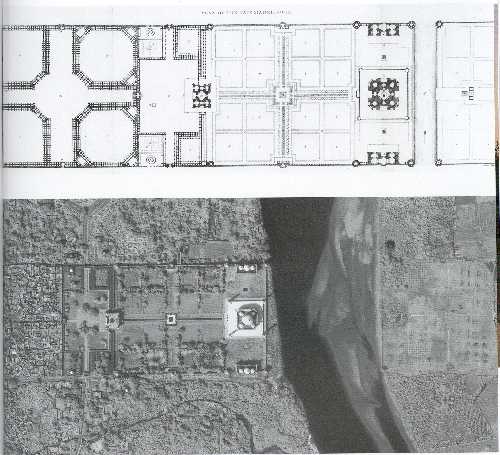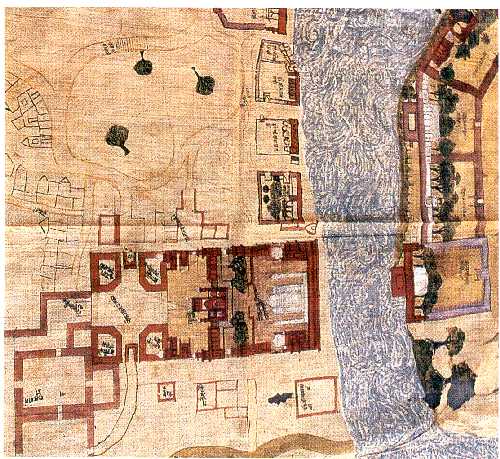 Elizabeth B Moynihan's book, draws on an archaeological investigation of a garden opposite the Taj Mahal, originally forming part of a single composition. via the book 'The Moonlight Garden' – New Discoveries at the Taj Mahal