Romy ACHITUV from text for the exhibition 'Between Man and Place: Locality in the Age of Virtual Transcendence' "..... Our experience of Place, i.e. of a particular locale, is intimately bound with the idea of distance. It embodies the potential of being away from and outside of a geographical, cultural, mental or emotional 'site'. Locale as a human-centric concept reflects a spatial relationship between presence – a mobile, ever-shifting entity – and a perceivably stationary place.
Romy Achituv and Danielle Wilde-

FLIES, multi-media performances The relation to a Locale often bespeaks opposing desires – on the one hand, a longing to be absorbed into its bosom, to find solace within its boundaries; on the other, a desire to escape it, to distance oneself from its confines. ...For us limited earth-bound creatures, the ability to maintain a clear notion of Place can be said to rely upon what has until recently been considered a basic existential constraint: the inability to occupy more then one location at a time. And yet, we are living in a time when every day we undergo transition into virtual (in both senses) extensions of the physical world, and where many old rules and constraints no longer seem to apply....
Aya Ben Ron 

 Four Seasons (Season 4), 2002, Print on photographic paper cut and glued in layers
One global outcome of contemporary technological advance is that in various aspects of human experience, built-in temporal and spatial distances seem to have been overcome. Two subjects can occupy the same Place in sound and image irrespective of the physical distance between them; they can share a virtual space through avatars that serve and are experienced as online extensions of the self, and access physical spaces in temporally disparate and spatially remote locations through pervasive networks of live webcam and satellite broadcasts.
In a very real sense, contemporary communications have rendered the world smaller. Yet even as technology pursues speed as a means to overcome physical distance, it is casting doubt on the very need for movement.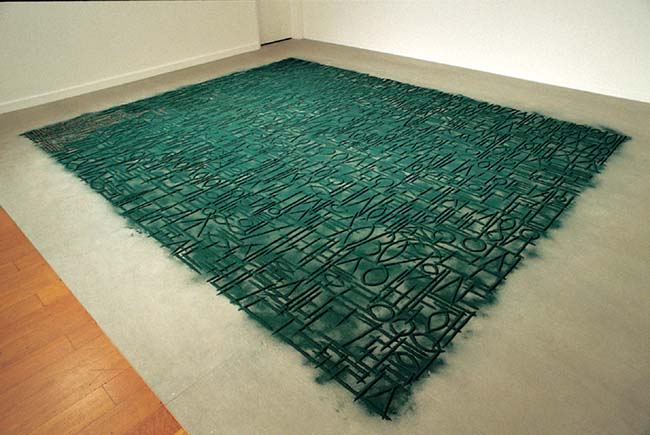 Oh Inhwan, When a Man Meets Man in Seoul
In a wide range of disciplines - phenomenology, psychoanalysis or metaphysics, to name a few - Place and its relation to the attendant concepts of Distance, Boundaries, and Movement have been considered fundamental for the production of Meaning. Shifts in their essence - and in their relations - are bound to affect changes in whatever meaning can be culled from them.
The deception inherent in modern communication technologies is that the human subject occupies and controls the world from the center, namely that he or she experiences a transcendence of boundaries, and by being able to simultaneously "be" both outside and within, approaches a sense of omnipresence. But omnipresence has its risks. As my gaze shifts from within my room to the outskirts of the planet and back again to gaze at the gaze of my gaze from the outside-in looking out and in and out again ad infinitum, I face the threat of losing myself to my "self". Paradoxically, in the relationship between Man and Place, the desire to overcome distance and collapse the boundaries of locality may spell the loss of the ability to "leap", the loss of the possibility for transcendence." read all